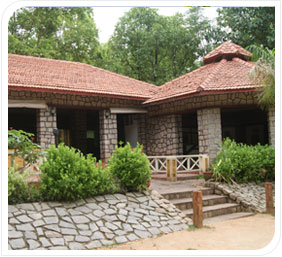 The Resort:
Nestled right on the bank of Banjar River Wild Chalet Kanha is the ideal gateway for the travellers visiting Kanha National Park. This resort has magnificent view of river Banjar to the front side & lush green forest on the back. Beautiful cottages with Individual Sit outs and hammocks strategically positioned are the perfect place to soak in the sun on a winter morning in Kanha.
Accommodation:
Wild Chalet Kanha offers elegant garden & river facing cottages equipped with all the modern facilities to ensure a comfortable, safe & perfect retreat at the Kanha Wilderness.
Dining:
The Centrally located dining area of Wild Chalet Kanha serves Indian & continental cuisine & some special local recipes of central India. View of the river, bird calls and the sight of plentiful birds flitting around, hold your attention while you tickle your taste buds with the delicacies laid out Buffet by the experienced Chef's.
Facilities:
Restaurant, Bar, Jungle safaris, Wildlife movies and audiovisuals, Sizzling Barbecues around bonfire, Tribal dances, Nature trails, Bird watching, Fishing, Swimming, Bullock cart rides Visits to Manegaon Tribal Village etc.