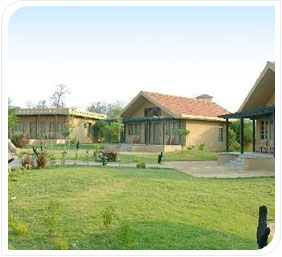 Experience this wild life resort, located at Kanha, which has unparalled accommodation design and facilities and is enhanced by a great team of warm caring local people. Together they redefine the meaning of hospitality and execute their combined approach to wildlife tourism with professionalism and joy.
The Resort borders the Banjar River on one side, allowing completely private access for fire – lit Picnic dinners and has easy access to kanha's entrance at KHATIA. The property is restricted the area designated for offered accommodation to an area of 5 acres, allowing space for the Jungle to reclaim its former holdings and lushness on the residnal land.
Celebration Van Vilas is fully supported by Raipur's one of the Leading Hotel, Hotel Celebration, a name synonymous with hospitality with the highest standards of catering, service and comfort. The resort, located in Madhya Pradesh's Mandla District, is accessible by road, rail and air. Jabalpur is 160 kms away, Nagpur 255 kms and Raipur 270 kms.