Overview :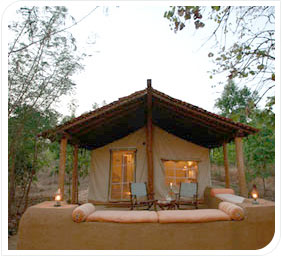 Shergarh The luxury Camp is situated just 03 kms from the Mukki Entrance gate of Kanha National Park. The camp has its privet water reserve situated in the middle of the camp & remains full fill round the year by natural springs. One can spot plenty of birds including kingfishers, cormorants and the seasonal breeding of hundreds of egrets by sitting at the Main house. This water body is overlooked by the main house.
Accommodation:
Shergarh has 06 units of Super luxury tents. Each Luxury tent has mud finished veranda, large bedroom with plenty of space for luggage & extra bedding & specious attached washroom & Shower. Every tent is housed under locally handmade baked mud tiles to keep it cool in summer & enough warm in peak winters.
Dining :
Shergarh offer dining at the Main house with traditional Indian food & continental cuisine. Most of the food items like fruits, vegetables & salad ingredients are taken from the in house garden or from nearby villages to keep a good care of your appetite.