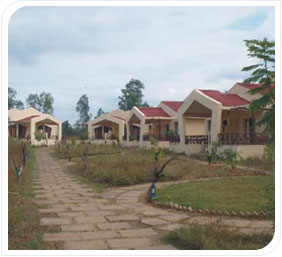 Satya Ashoka Resort is situated close to KIsli gate of Kanha National Park at Khatia village. Stya Ashoka Resort Offer quality accommodation & delicious food which makes Satya Ashoka a advisable place to stay at Kanha National Park. Kisli gate of Kanha is easily accessible from the resort approx 500 meters. Overall good quality accommodation, verity of food plenty of recreational activities make Satya Ashoka a complete wildlife resort.
Accommodation:
Satya Ashoka Resort offers 24 air-conditioned luxury cottages in four categories: Independent air-conditioned cottages with private sit-outs & all are garden facing. Six Independent air-conditioned cottages especially designed for families with inbuilt elevated floors for kids having independent balconies and private sit-outs ideal for Family stay. Two suit rooms designed especially for couples. These provide private pools within the cottages. & a Separate sit-out. Two grand suites with 2 separate rooms with independent balconies and private sit outs.
Dining:
Meadows" the multi-cuisine restaurant at Satya Ashoka Kanha caters to the most diverse tastes. The restaurant serves Indian, Continental and Chinese preparations.