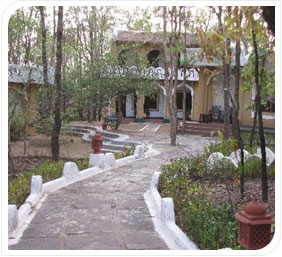 The Resort:
Krishna Jungle Resort is situated near Khatia entrance gate of Kanha National Park. Krishna Jungle Resort is spread over 6 acres of thick forest & Bamboo groves elegant rooms, impeccable services & close accessibility to the entrance of national park makes it perfect place to stay for any wildlife lover.
Accommodation:
Krishna Jungle Resort offers large twin bedded cosy and comfortable 31 cottage rooms designed in typical Indian Village Theme. All cottage rooms have modern facilities including attach bath running hot & cold shower and independent privet sit out to enjoy the beauty of nature & to listen the sound of some rare bird species within the resort premises.
Dinning:
Restaurant at Krishna Jungle Resort serves verity of cuisines & also the delicious local dishes of central India. Most of the vegetables, Milk product & salads come from the local tribal villages. Baradari'-Al-fresco the open air dining at Krishna Jungle Resort get live on every evening with a bonfire, barbeque snacks to enhance the dining experience at the wildlife resort where you are so close to nature that you can feel the silence of the jungle, occasionally broken by the sounds of the nocturnal creatures coming alive.