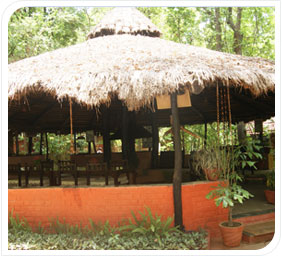 Kanha Jungle lodge is situated close to the Mukki gate of the national park, the lodge is about a half kilometer from the Kanha National Park's Mukki gate. The visitors can get to see the several species of birds, the alarm calls of deer and the occasional roar of the tiger can be heard here. The lodge is built with minimum interference to the natural environment of the jungle. The most important aspect of a wildlife experience is the interpretation of nature and its habitant by an accompanied expert or who we call naturalist. The whole experience of wilderness gets enriched with the naturalist's in-depth knowledge of the local flora & fauna. Wildlife experts at Kanha Jungle lodge are excellent in narrating and deeply believe that the knowledge is an asset which increases with sharing. A trip with the experts to the jungle not only leaves you with the sense of thrill and excitement but also deepens your wisdom lasting beyond your vacation. The lodge has friendly environmentally and every aspect of its development and operation is sensitively conservation. In fact one room has a tree growing through it.
Accommodation:
Kanha Jungle Lodge offers 18 spacious rooms and two new independent deluxe cottages with private patios, overlooking a lush green Sal forest, to make a total of 20 rooms. All have modern facilities with single, twin or double bedded rooms, with attached bathroom & other amenities like shower, running hot and cold water, comfortably furnished, even a hot water bottle at night to keep you warm in winters.
Dining: A large round thatched Dining area serves verity of Continental and Indian cuisine, Fresh & home cooked food. Most of the fresh vegetables come from the organic farming at the Lodge. One can see a Varity of vegetables and fruits being cultivated within the resort premises at the organic farm. There is also an open dining area to dine under the stars or to have a sumptuous breakfast, under the rustling sal forest leaves and the twittering of many birds.