About Kanha National Park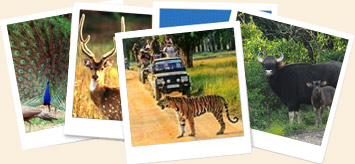 Kanha National Park is nestled in the Maikal range of Satpuras in Madhya Pradesh, the heart of India that forms the central Indian highlands.The national park is being popularized as the Tiger reserve and interestingly is being declared as one of the finest wildlife areas in the world. Spreading across two revenue districts the Mandala and the Kalaghat, Kanha National Park was declared a reserve forest in 1879 and revalued as a wildlife sanctuary in 1933. Its position was further upgraded to a national park in 1955.
The Kanha National Park is spread across the area of 940 sq km in the Maikal chain of hills. By bringing up the buffer and core zone all together, the Kanha Tiger Reserve has the total area of 1945 sq km.
The landscapes and the surrounding luxurious meadows along with the wooded strands and the dense maroons of forests offer magnanimous sightseeing experiences for the nature lovers. Making the land more beautiful and adorable, the crystal clear streams amidst the dense jungle cleanses the surroundings and makes the wildlife unrivalled. This vivacious land has been the source of inspiration for Rudyard Kipling, a famous writer for his outstanding creation- "The Jungle Book".
The Kanha National Park is the ideal home for wide ranges of wild creatures; right from the mighty tigers to the most populated Barasingha and the countless species of plants, birds, reptiles and insects. This reserve has fascinated many travelers around the corners of the world with its well developed infrastructure specially meant for them. The best location here to enjoy the most is the Bammi Dadar, also known as the Sunset Point.
Jungle Safari in Kanha
A trip to Kanha Reserve directly takes you to the widespread arena of the lush habitat of wild creatures. With elephant and jeep safari an encounter to all these species is really generous and worthwhile. With jungle safari you can take a closer look to the wild animals and can capture their magnanimous images in your cameras.
Kanha Wildlife
The Kanha National Park is surely a paradise for the wild species that brings the natural habitat for them. A location which is filled with large varieties of fauna out of which the jungle is best known for Barasingha, the swamp deer and is famously called 'the jewel of Kanha'. The tiger tour is perfectly a great option for the nature lovers in Kanha.
Places Next to Kanha
Kanha National park is considered to be one of the finest wildlife areas in the world. Not only Kanha even the nearby destinations next to Kanha like Bandhavgarh, Pench etc. are the magnificent locations for the wildlife & nature lovers.
Kanha Travel Information
Kanha brings the best destination for the wildlife lovers especially during the months from October to June. Being the central highlands of the Indian tropical zone, Kanha Reserve brings the most fascinating jungle tour to catch the glimpses of the rare wild creatures like Barasingha, wild Dog and Indian tiger.