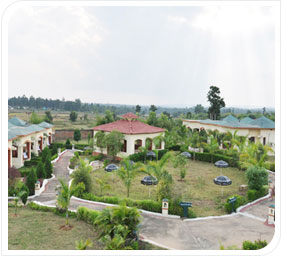 The Resort:
Sanjay Tiger Resort is located in Mocha nearby Banjar river. Sanjay Tiger Resort provides the finest accommodation in Kanha National park. The resort has a well laid infrastructure and network. The resort offers friendly environment, quality food and good atmosphere of a wildlife resort. The resort offers all that a wildlife resort should, say experienced naturalist, guides and birders for wild safaris & a professional hotel management in far outreach of wilderness that is Kanha National Park.
Accommodation:
The Sanjay resort is equipped with 10 Independent deluxe cottages equipped with all the facilities. One can get with the attached luxurious bathroom, satellite television, running hot and cold water, 24 Hours electricity supply and nice, talented & professional staff working round the clock for the guest.
Dinning:
The Sanjay tiger resort provides one of the finest cuisines in whole Kanha national park. The restaurant is centrally placed amidst well maintained garden. Capable of accommodating large gatherings. The restaurant serves Intercontinental, Indian, Chinese and local delicacies prepared by expert Chefs. All the staff working hard to provides one of the best cuisines and very fast services to their guest.