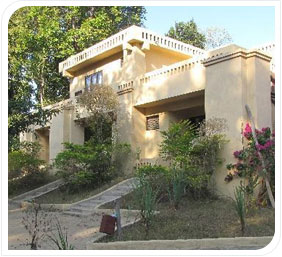 The Resort:
MUBA Resort, a heaven on earth cordially invites you to join us on an adventure into the forest of Kanha National Park. Where the guest services with true luxury, hospitality and comfort. The Muba resort is situated near Mukki gate of Kanha National park. The Muba groups was to born to provide to have exclusive resort in the wildlife reserves in India where the traveler will get to stay in well appointed accommodation, dine on sumptuous cuisine and indulge in many exciting activities.
Accommodation:
Muba resort has two category of accommodation beautifully designed cottages & Mud houses. Resort's aim is keeping their guests in the heaven on earth by providing all the luxury and all the things in one area, such as activity/information centre, restaurant serving vegetarian and non-vegetarian buffets, An extensive wildlife library, A Souvenir shop where you could shop for different taste of accessories for yourself and your home, A games room to provide both indoor and outdoor games and their accessories, a beautiful natural pond, where you can enjoy fishing and lots of thing that will make your holiday a memorable everlasting holiday.
Dinning:
Muba provides large verity of cuisines of vegetarian & no vegetarian food items. In breakfast one can get the variety of choices from the cuisines .In the lunch one can get the tastes of the mughlai and Indian cuisines. Food provided in muba reminds of the home cook food. Coffee/tea/cookies are available throughout the day Special Kids' menu comprising of food that is non-spicy and exciting for children is available from 6:00 – 8:00 pm.