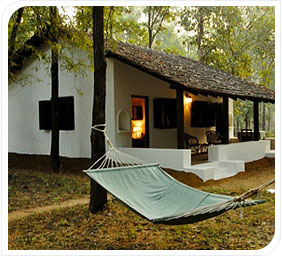 Nestled near Kisli entrance gate of Kanha National Park Kipling Camp is the perfect place for the travellers who wish to relax in peaceful surrounding and wish to explore the remote forests and villages of central India. Established in 1982 by a family of conservationists on near Kanha National Park, it is one of the finest wildlife camps in India. Over the years, the Camp has enthused gently with the time, without spoiling its magical atmosphere & quality services.
Accommodation:
Kipling Camp Kanha National Park offers tastefully designed beautiful cottage rooms with all the amenities to ensure maximum comfort to the guest staying at the camp. Each cottage room has its own veranda offering great views of the Camp and the surrounding forest. All the rooms have twin or double beds, tea and coffee making facilities, and en suite bathrooms with showers. Heaters and hot water bottles are provided in the winter season, and coolers or air-conditioners in the summer season.
Facilities & Activities:
There are plenty of facilities & activities at the camp. After you safari drives in the day time you can relax on a hammock can have a relaxing massage, bird watching at the camp side, Also can spot some wildlife coming to drink at waterhole which is in the camp premises. You can enjoy bathing Tara (TARA is one of the most famous Asian elephants in the world, and the real star of the Kipling Camp) in the river. In the evening you can enjoy bonfire, film shows and tribal dances.