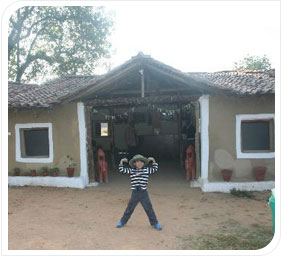 The Resort:
As the name says Eco resorts, this means Resorts build on the base of the degradable products that will ultimately lead to the growth of the sustainable tourism. Kanha Village Eco Resort is an admirable Eco friendly retreat, situated in the buffer zone of Kanha Tiger Reserve, one of the most beautiful forests of the world. The Kanha Village eco resort accommodation is based on the sustainable and socially responsible tourism. The resort caters to the need of our guest with modern amenities in well furnished luxury cottages and rooms. The property has been developed in ethnic style, with locally available bio degradable materials. Resort has solar powered pathway lighting system, CFL bulbs, organic composting, rain water harvesting and recycling of water. To respect local culture & traditions, Kanha village eco resort support the local youth by providing employment to them rather than outsourced manpower.
Accommodation:
Kanha Village Eco Resort has beautifully designed cottages and rooms, made in unique style they look like the local tribal home with facial designs on the walls giving the resort the look of a village as the name suggests. All decorated in the finest linens and simple style but with all modern amenities. Sitting on the veranda you can enjoy the natural beauty around while relaxing. Luxury cottages have privet open to sky splash pool where you can relax and enjoy bath. Resort has 4 separate, 2 twin cottages and 4 Super Deluxe Rooms. Spacious with all modern amenities but traditional style interiors, individual Air conditioners / heaters, electric kettle to make tea / coffee, mini refrigerator and insect repellent. Each cottage has its own open to sky splash pool which can be reached directly through the room or the bath room.
Dinning:
Multi Cuisine restaurants Kodo & Kutki, named after grains sown by local tribal farmers offer tasty Yummy food which is cooked using fresh vegetables and fruits that are procured from nearby villages. Kodo is formal restaurant with sitting on tables and chairs and Kutki with Charpies, gives a feeling of road side eatery. Resort has separate kitchens for Vegetarian and Non Vegetarian food and can also serve Jain food. Private and Bush dinner can be arranged at garden or nearby forest patch on special requests.