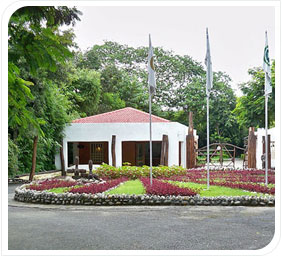 Infinity Kanha Wilderness is situated very close to Mukki gate of Kanha National Park. This resort is spread over 24 acres of lush green forest having thick Mahua Trees & Bamboo Groves. Close to the Jamunia River flowing at the end of the property lays the wide expanse of a meadow which allows guests to enjoy the beautiful view of the Sarasdol Hill and its nearby tribal villages. Great Surroundings, lush green forest, quality accommodation, delicious meals & excellent services make Infinity Kanha Wilderness a perfect choice of a wildlife resort.
Accommodation
Infinity Kanha Wilderness offers two category of accommodation luxury Vilas & luxury tents both equipped with all the modern facilities. The tents and villas are well-appointed with en suite bath and a sit-out deck. The luxurious and spacious bedroom allows guests to indulge in the luxury of living like a nomad in the era of bygone days. Large panels of windows provide the feeling of being close to nature.
Dining:
Restaurant at the main building of Infinity Kanha Wilderness serves delicious meals & an open air barbeque in the evening enhance the feel to dine in the wilderness.