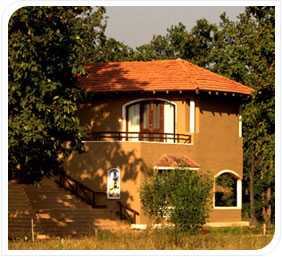 Chitvan is the most discreet of the Jungle and Safari Lodges in India. It blends into the surrounding landscape, while providing a stunning viewpoint for observing the area's wealth of Wildlife. Chitvan blends perfectly with the surrounding countryside. The surrounding hills are wooded, and the open grassland in front is interspersed with some Sal trees, whistling thorns, and some scrub. You will be captivated by this unspoiled corner of Kanha National Park, spread in about 14 acres of land.
Accommodation:
Accommodation at Chitvan Jungle lodge is categorized as per the 05 elements of nature Agni, Prithvi, Jal, Vayu and Akash. All blocks have been designed in such a way that the guest in bed has magnificent view of forest & the farm land. Privet sit outs, open showers privet terrace all make Chitvan a luxuries staying option at Kanha National Park. Chitvan Jungle lodge is specially designed for every purse, purpose & personality, Accommodation to house causal leisure traveler, a peace finder, a business tycoon; a head state, Chitvan is suitable for everyone. Chitavan Jungle Lodge has 18 Luxurious and well appointed suits with large windows offering views of the adjoining forests, farm and hill areas.
Dining:
To take care of your appetite, Chitvan Jungle Lodge serve fresh food items taken from the organic farm within the resort premises & the food reaching your taste buds is unfermented and prepared right in front of your eyes. Vegetables, pulses, spices, cooking oil everything is harvested in the resort's organic farm. With an open lodge & natures stillness waiting for you to have a perfect dining experience.