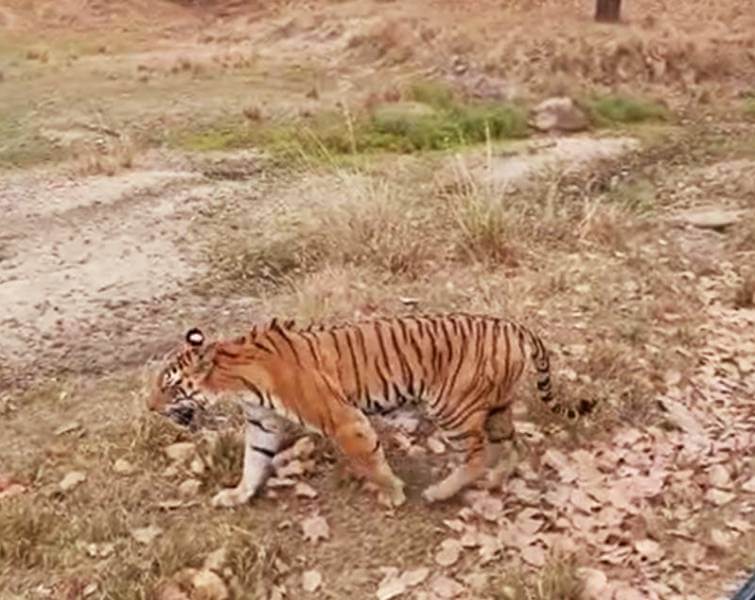 23 Mar, 2023
Watch Video: Tigress T27 aka DJ Spotted with Cubs in Mukki Zone of Kanha National Park
A viral video circulating on social media features Tigress T27, also known as DJ (Dhawajandhi), along with her cubs wandering in the Mukki Zone of the Kanha Tiger Reserve. Visitors were delighted to capture the wonderful moments of the Kanha National Park tigress with kids on their phones and cameras during their jungle safari.
Tigress T27, also known as DJ Female, is a famous resident of Kanha National Park, located in the Indian state of Madhya Pradesh. She is known for her distinctive spots on her body, which make her easily identifiable. In January this year, she was spotted with her five cubs in the Mukki Zone of the park. As per reports published by the park authority in January, the cubs were three months old, apparently born in November, 2022.
However, this time, the recent Kanha National Park viral video shows the tigress moving back and forth and her cubs are bouncing around behind their mother. The good news is that such sightings of tigress with newborn cubs have been coming up from time to time nowadays. The incidents have been attracting wildlife enthusiasts from all over the country to experience more safari in Kanha National Park in recent days.
Moreover, speaking of Tigress T27, she is considered to be an important part of the park's ecosystem and is closely monitored by park authorities and researchers. Her cubs are also closely monitored to ensure their survival and wellbeing. The park authorities work hard to protect these endangered animals from poaching, habitat loss, and other threats.
As you all know, Kanha National Park is known for its rich biodiversity, and it is home to a variety of wildlife, including tigers, leopards, Indian bison, and a wide range of bird species. The park is also known for its conservation efforts, which have helped to increase the tiger population in the region. And, the best time to visit Kanha for tiger sighting is during summer when the vegetation becomes thinner.
Kanha National Park Social News Inputs.