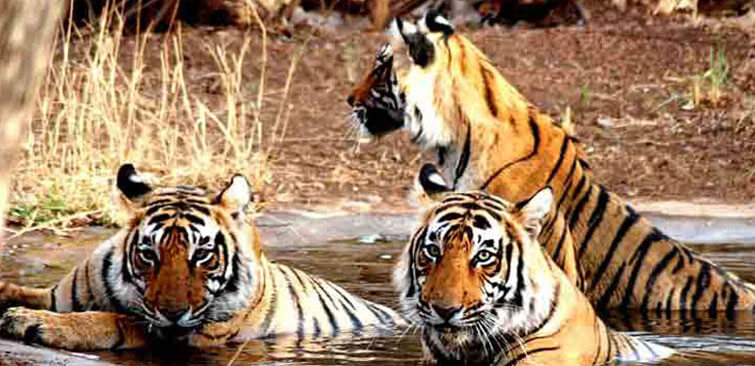 24 Jan, 2018
12 Best Places to Visit near Kanha National Park
Take out your travelling shoes from the closet and be ready with your backpack for a long vacation in Kanha National Park in Madhya Pradesh. Whether you are a nature or wildlife lover, or a history buff, this place is packed with a lot of attractions to impress you. Apart from being one of the largest and high tiger density national parks in India, the park has a plethora of tourist destinations near it where you can quench your thirst of touring some amazing places in the diverse state of Madhya Pradesh. From catching the sights of imposing big cats to relishing your time in Bamni Dadar and Raneh Falls, you can expect to have a gala time exploring the gems of Madhya Pradesh that are in close proximity to Kanha. Check out this blog to discover more incredible places to see during your Kanha excursion.
Kanha Museum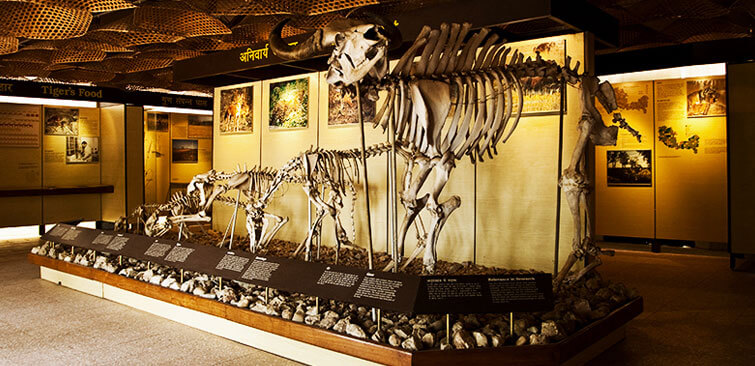 Being a wildlife lover whenever you plan an excursion to Kanha National Park, you must visit the Kanha Museum, which is another important nearby tourist attraction in KNP. The museum is under the authority of Forest Department and is the ideal place to get some information about the topography and other interesting aspects of the park. Sprawled over a large area, Kanha Museum displays the history of the reserve and exhibits the skeletons of various carnivore, reptile, and herbivore creatures. From exciting experience to interesting facts and notes, the museum renders a lot of attractions for the wildlife buffs. Also, in order to offer better comprehension of wildlife habitat to tourists, this historical center also houses a few charts, specimen, photographs, and models which give a detailed insight of the food chain and the wildlife inhabiting the forest. The major attraction of the museum is the evening sound shows which is a must see.
Distance from Kanha National Park: 11 km
Mandla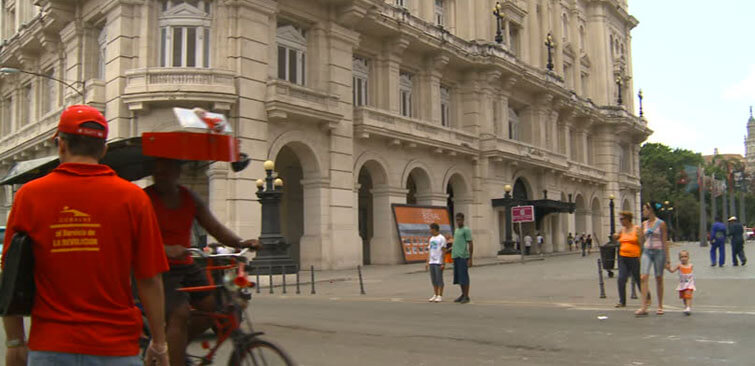 Known for sky-high forts and sacred temples, Mandla is one of the best tourist destinations near Kanha National Park. As a nature-filled place, Mandla serves its visitors with the dazzling views of RangrezGhat and Rapta Ghat including the catchment area of hushed Narmada River and its tributaries in which the town of Mandla lies. And what makes this place more enthralling is the fort which is encircled by Sahastradhara River, and thus, gives some glorious vistas to savour.
Distance from Kanha National Park: 35 km
Kawardha Palace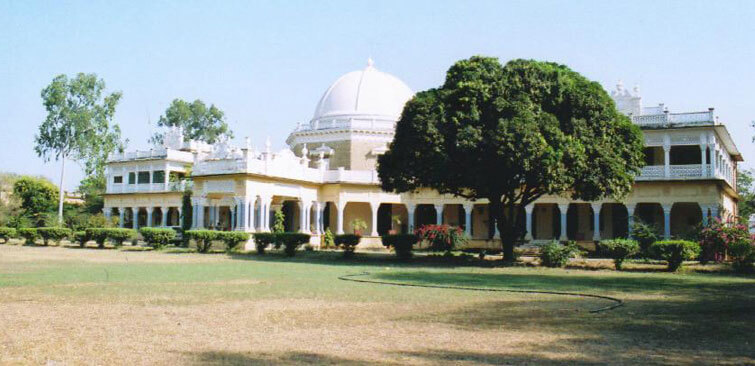 Stretch your expedition to Raipur in Chattisgarh where Kawardha Palace awaits to soak you in the royal ambiance. Sprawled over an 11-acre of lush green territory, this Italian marble and stone-made palace is located 91 km from the Kanha National Park. For visitors, this monument encompasses panoramic views of Maikal Hill Range. Staying in Kawardha Palace is something which you must do if your pocket allows. In order to offer an imperial treatment, this royal residence that has been converted into a heritage hotel is crammed with all the luxuries, including an evening bar cum library room.
Distance from Kanha National Park: 91 km
Amarkantak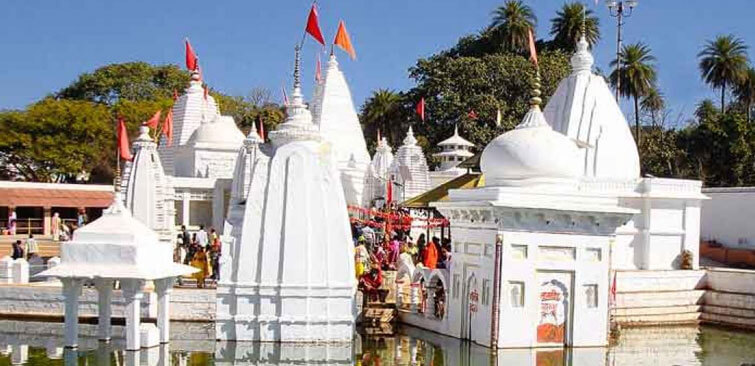 Amarkantak, which is also known as Teerthraj, is located at a distance of 159 km from Kanha National Park. Festooned with rich natural heritage, the mystic land is overloaded with plants with medicinal properties which make this place noteworthy from the ecological perspective as most of them are of rare species or are hard to find. Being the emerging point of Narmada, Sone, and Johila Rivers, Amarkantak is best known for its DudhDhara Waterfalls that has foaming water that looks like milk. Other than this, there are a few places to see which you should not skip during your excursion here. Kalachuri era's Pataleshwar Mahadev Temple and Narmada Udgam Temple are amongst the top attractions in Amarkantak. The temples brag an incredible architecture along with spiritual hues for tourists to savour. This enthralling town also gives an opportunity to take a plunge into the cultural essence of central Indian tribes through village tourism opportunity.
Distance from Kanha National Park: 159 km
Jabalpur
Often known as the soul of Madhya Pradesh, Jabalpur is the city of coloured-marble rocks. It is just 164 km away from Kanha National Park and is an enthralling city that bestows many attractions to travellers to savour. From its renowned misty Dhuandhar Falls and Madan Mahal Fort to nature's walk in Dumna to Bhedaghat, Jabalpur has a parcel of bewitching experiences. What would be more fun here than sitting under the gleaming light of the moon and savouring the picturesque view of changing marbles of 100-feet tall mountains with River Narmada passing through them. For the individuals who come here to seek blessings of the Almighty, the place bids a number of spiritual attractions. From 10 century old Chausath Yogini Temple of Goddess Parvati and Lord Shiva to enchanting Gwarighat Gurudwara on South Bank of the Narmada River, Jabalpur houses some of the sacred-most places of worship. Amongst which is Kanchnar Temple that is a famous for a mighty 76-ft tall statue of Lord Shiva. Coming to Dhuandhar Falls - the most visited place in Jabalpur. The fall, which in english can be translated as the 'Smoke Cascade' because of the mist which is formed when the water hits the rocks below, gives tourists a jaw-dropping sight to catch. Also, famed as the third largest city of Madhya Pradesh, Jabalpur houses a couple of historical forts and war memorials in the form of, Madan Mahal Fort and Rani Durgawati Museum for a historical tour. These destinations all together make Jabalpur a "place for nature lovers, history buffs, and devotees as well".
Distance from Kanha National Park: 164 km
Bandhavgarh National Park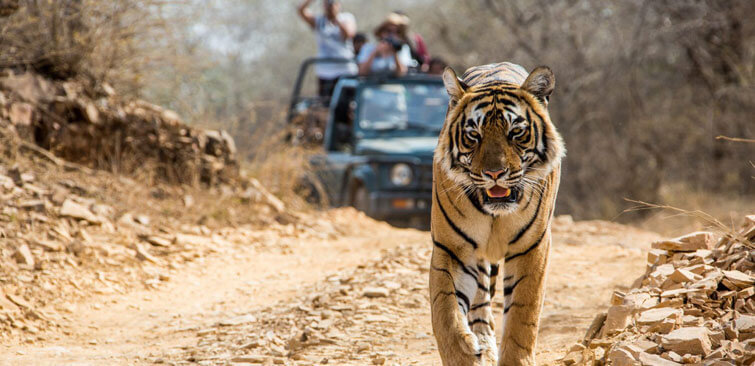 If you are an ardent fan of flora and fauna and want to add more stories in your treasure chest of wildlife experience during KNP excursion, then you must visit Bandhavgarh National Park, which is just 215 km away. Spread over a territory of 105 km, Bandhavgarh is the best place to hear the roar of the Royal Bengal Tiger. The park is crammed with diverse wildlife and varied topography that ensure a brilliant combination to experience. Apart from the wildlife aficionados, the reserve also lures nature lovers as it is not simply constrained to amazing wildlife sighting and safari tours. Shopping in Bandhavgarh market, trek to Bandhavgarh Fort, sightseeing at Bamera Dam, and seeking blessing at Jwalamukhi Temple are some of the top things to do here apart from a wildlife tour.
Distance from Kanha National Park: 215 km
Bamni Dadar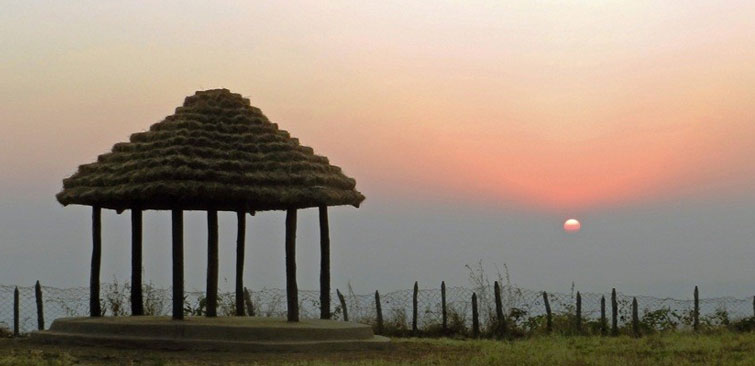 Capture the bewildering sight of the sunset from Bamni Dadar which is also known as the sunset point of Kanha. Bamni Dadar offers captivating views of the exquisite forest as it is the highest plateau located at a distance of 275 km from the reserve. The place still has a take-off region from where British used to fly their aircrafts in order to enjoy the bird-eye view of Kanha National Park. Bamni Dadar offers mind-boggling sunset views. Other than this, you can also catch the sight of the enthralling barking deer, spotted deer, and Indian bison.
Distance from Kanha National Park: 275 km
Pachmarhi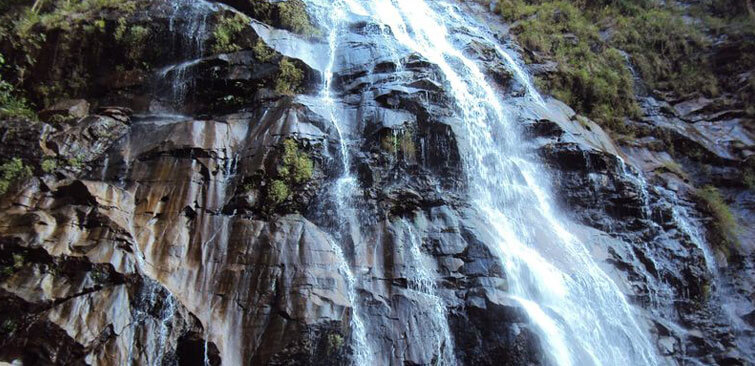 Pachmarhi is certainly a hill station worth a visit. Often known as 'Queen of Satpura', Pachmarhi is a concealed solitaire of Madhya Pradesh which is settled delightfully in the lap of nature and history. As you extend your excursion to the enthralling land, you will be overwhelmed by the mesmerizing beauty of Satpura Mountain Ranges, scenic spots, rock paintings, and waterfalls. Apart from this, Pachmarhi is also a treasured destination of ancient caves of the Buddhist era.
Distance from Kanha National Park: 300 km
Panna National Park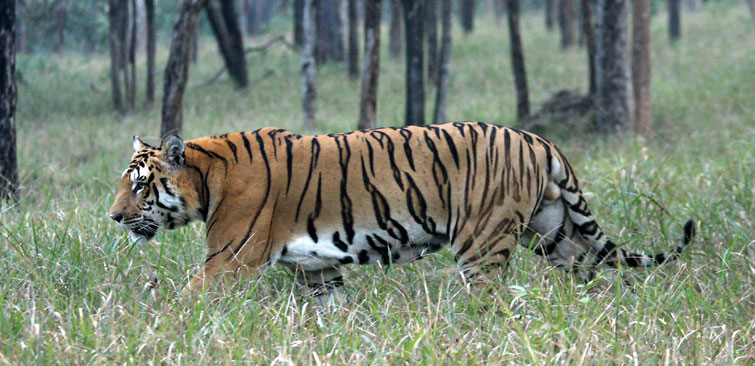 Wildlife exploration is something to which most of the adjacent attractions of Kanha National Park are associated with. As you choose to visit Panna National Park, you have the chance to a rich wildlife experience. Hosting a portion of best wildlife species, this Tiger Land of Panna allows its visitors to witness the habitat of mysterious mammals which include tiger, leopard, wolf, hyena, sloth bear, and more. Other than this, avifauna and reptiles are the other wildlife species in Panna along with affluent flora which bestow an ideal wildlife touring time here. From over a 200 species of migratory birds to furious big felines and antelope, the reserve is fit for filling your Panna outing with bewildered moments which you can capture in your camera. Therefore, Panna National Park makes for a place that is an impeccable wildlife destination to visit during your Kanha National Park tour.
Distance from Kanha National Park: 315 km
Ajaigarh Fort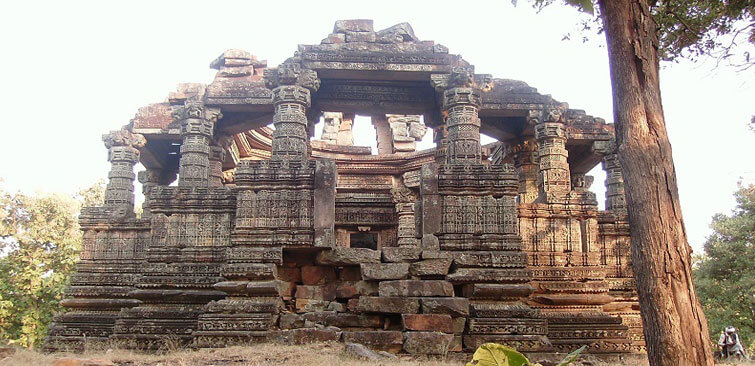 If you're visiting Panna from Kanha then you should further add Ajaigarh Fort in the plan as this majestic place is situated only 37 km from Panna. This fort has a flat-topped design and is located in Ajaigarh which is fringed by the Vindhya Ranges. If you are a history and nature lover, undoubtedly, this fort will fill your heart with some awe-inspiring views of Vindhya Ranges and that of Ken River. The fort comprises two temples and two rock-cut tanks which are named after the renowned Ganga and Yamuna streams. In order to reach to the entryway of this historical fort, you will have to climb around 500 steep steps.
Distance from Kanha National Park: 364 km
Raneh Falls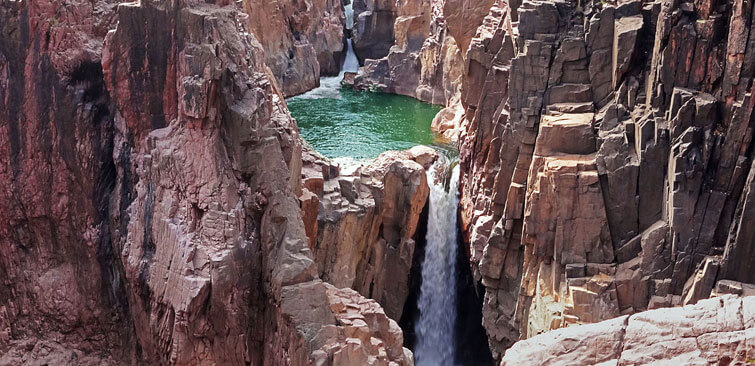 Located at a distance of 15 km from Khajuraho, Raneh Falls isn't a place to miss. This attraction near Khajuraho possesses tranquil surroundings and riveting views which give a wholesome holiday experience. The glorious Raneh Waterfall is a canyon formed with crystalline and granite rocks, which is situated on the Ken River and is 30m deep. The highlights of this place are the dozens of falls, some of which are seasonal. Raneh Falls is a perfect stopover destination for the honeymooners as the place offers a romantic ambiance along some beautiful views to share with your loved ones.
Distance from Kanha National Park: 370 km
Khajuraho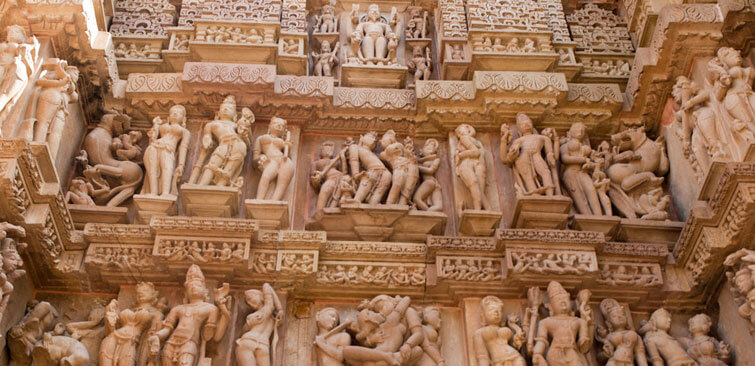 While making the list of the closeby attractions to be included in your Kanha tour, put Khajuraho somewhere in the top. One of the best travel destinations in Madhya Pradesh and a prominent UNESCO World Heritage Site, Khajuraho is famous for erotic sculptures and Hindu and Jain Temples. For a change, if you want your Kanha excursion not just to be restricted to wildlife and nature, Khajuraho would evidently be there to welcome you. These temples in Khajuraho are categorized as per their geographical location - Eastern, Western, and Southern. You can invest your time, money, and energy to appreciate the exquisiteness of these temples which exhibit some stunning art of sculptures and architecture.
Distance from Kanha National Park: 371 km
Let's now talk about how to reach the above-mentioned destinations
Reaching a destination is always a major headache for any traveller, particularly, when you're travelling with your family. However, in the case of Kanha, you can easily get a taxi/cab from the park to all the above-mentioned destinations.
Whether you're planning a solo trip, family tour, or honeymoon vacation, Kanha National Park is surrounded by some of the best holiday places to visit in India. Holidays in KNP are not just about the wildlife excursion, but historical, nature, and spiritual tour as well. So, just pack your bags and get ready to have an incredible vacation in KNP. We provide best tour packages for Madhya Pradesh and can also customize it as per your choice, preference, or budget.