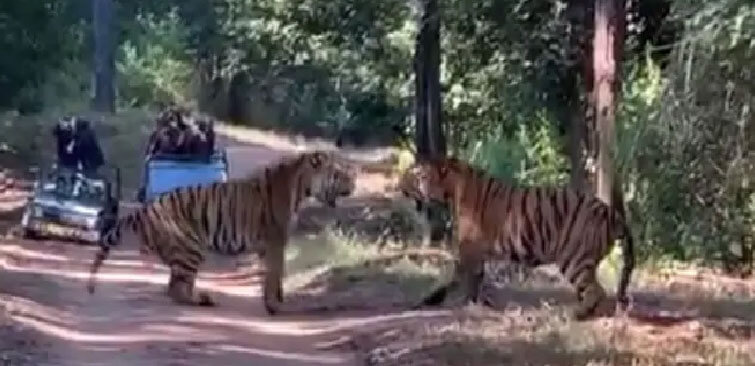 13 Jan, 2020
Viral Video Shows Two Tigers Fighting Over Territory in Kanha Tiger Reserve
Tigers are fiercely protective of their territory, and resist any encroachment upon it severely. An example of this was seen recently at Kanha Tiger Reserve in Madhya Pradesh, where two tigers fought ferociously over territory. The entire episode was captured in a video clip, which has since gone viral on social media.
Video Credit: Anurag Dwary
What does the video clip show?
In the 30 seconds video clip, two tigers can be seen sizing each other up, waiting for the right time to strike. While the visitors who are on a safari in their jeeps look on, the tigers wait for some time before pouncing on each other on their front legs with their enormous claws. The two tigers, T-67 and M-3, often wander in the Kisli and Sarhi zones of the tiger reserve. They must have crossed each other's ways, thereby leading to the big fight. Tourists who witnessed the fight will remember this particular trip to Kanha Tiger Reserve, because it is not often that one comes across two tigers involved in a fight. Spotting a tiger is special in itself, and watching the two of them fight is the icing on the cake.