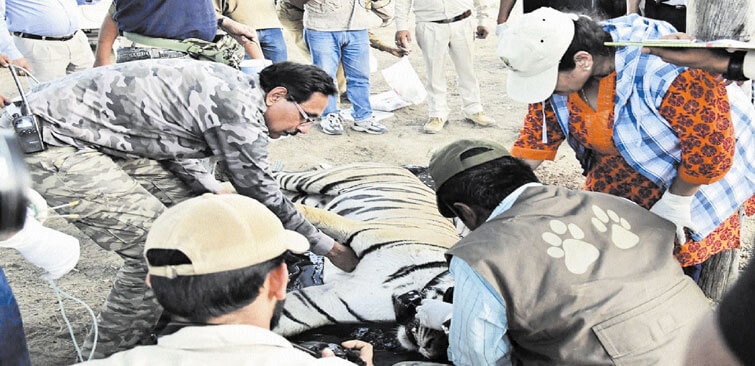 21 Apr, 2018
Kanha's Orphan Tigress Translocated to her New Home in Nauradehi
In a yet another tiger translocation move, Madhya Pradesh Forest Department successfully shifted Kanha's tigress to Nauradehi Wildlife Sanctuary on Wednesday, April 18. The recently shifted tigress is said to be 3 years old and has been radio-collared and medically examined by the officials of Kanha and Pench tiger reserve before they left her into the sanctuary. The tigress was rescued 4-5 months after the death of her mother at Panna Tiger Reserve and was raised in captivity at the Mukki Range of Kanha Tiger Reserve. Cubs are trained by their mother tigress for hunting, but she remained deprived of it. She was brought to Kanha when she was just 4-5 months old and since a cub never learned how to hunt, she was grown in the special mechanism. Herbivorous were sent in her cage and the hunting efficiency of the tigress was monitored regularly. Now the tigress was efficient enough to hunt and therefore was translocated.
Nauradehi is one of the biggest wildlife sanctuaries in Madhya Pradesh and has the best conditions for tigers. The sanctuary has unique landscape, adequate prey and less human intervention making it the perfect place for tiger translocation project. In order to develop wildlife activities in the forest, herds of cheetals were translocated a few months back. Now she will live with the complete freedom in Nauradehi.
Kanha National Park News Desk...