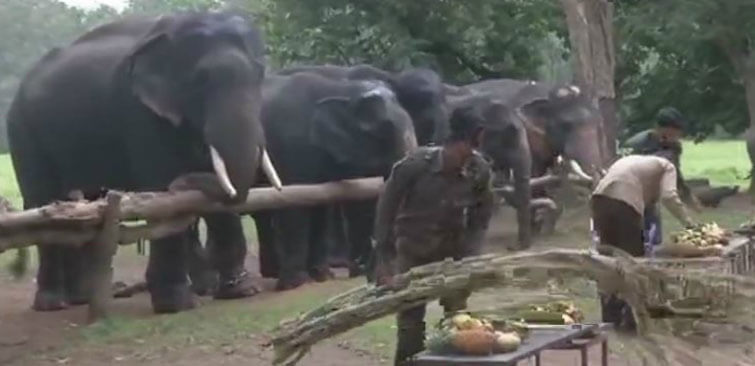 08 Aug, 2018
Frolic Elephants Sighted at Kanha National Park
Have you ever heard that animals enjoyed themselves at a picnic? Yes! Elephants at Kanha National Park, a popular Tiger Reserve in Madhya Pradesh, relished a relaxing time for a week in a picnic organised by the park's authority. Kanha National Park's officials have been working towards the idea of elephant conservation for the past seven to eight years. They have been focusing on organizing picnics for more than a dozen elephants where the giants enjoy their private time and relax.
The officials of Kanha National Park (KNP) informed that this kind of picnic is arranged every year for the elephants to enjoy family time. Elephants are social animals and during this time period, they develop a bonding with other elephants. A ranger officer told ANI that during this relaxing time, the elephants are pampered with grand feast which includes apples, mangoes, pineapples, jaggery, sugarcane, bananas, and coconuts. The jumbo animal can also be seen moving around cheerfully. Apart from being a family time for the elephants, this annual picnic is also a health camp where the necessary health checkups are done and head and body massages are given. The pampering includes the bathing of these gorgeous animals in a river, after which their nails are cut and tusks are trimmed and in the end, they are given a neem oil massage.
While the Elephants at Kanha National Park were enjoying a good time on their week-long picnic, a contradictory incident in Corbett National Park caught the attention of Uttarakhand Government. The elephants in Corbett were reported to have been photographed for a commercial use while tied with chains. Few owners of resorts at one of the oldest tiger reserve in India and a most-visited one too, used photographs of chained up elephants for commercial purposes and it indeed comes as a shock.
After getting information about the imprudent incident, Uttarakhand High Court took immediate action and banned any commercial which uses images of chained animals. The court also controlled the entry of number of the vehicles in Corbett National Park. The owners of the resorts are also likely to receive notice from the Chief Wildlife Warden through Divisional Forest Officers to explain their misdeed as the commercial use of wildlife is a violation of Wildlife Protection Act.
The stark contradiction in the two incidents gets to us and to many other wildlife enthusiasts, hopefully. While we feel deeply moved seeing the scampering elephants at Kanha, enjoying their days out in the sun. On the other hand, the news of unfortunate event like using the giant species for commercial purpose, breaks our heart. It reflects that there is still a lot to be done in the direction of wildlife safety, and the resorts around the reserves need to act responsibly and must inculcate prudence in their behaviour. We hope, elephant picnics and similar events are encouraged in other national parks in India, and both authorities and tourists are a part of it in order to learn more about elephant conservation.