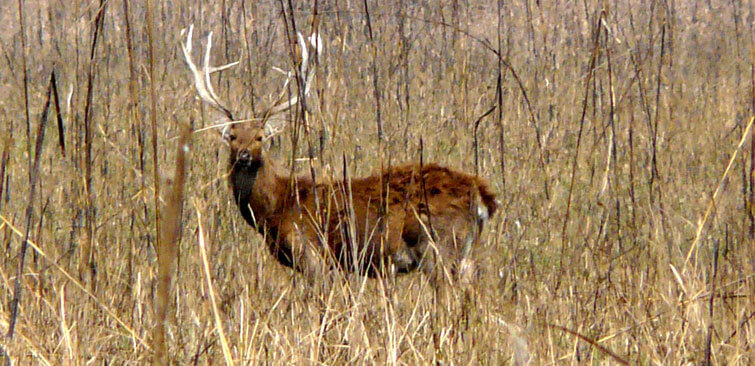 17 Jul, 2018
Internal Shifting of Eastern Swamp Deer in Kanha Tiger Reserve
Kanha Tiger Reserve's officials are working on the internal shifting of the endangered eastern swamp deer from a high-density region to a low-density region in the reserve. The translocation is being done in order to save them from natural disaster that might occur in a particular region. Since the deer is already in the list of endangered species, shifting them to a safer region might cut down the possibility of their complete wipe out. This translocation will be done in a natural way as these species are considered sensitive in nature and shifting them outside the reserve can turn out to be dangerous. The officials have taken a decision of not shifting them outside the reserve.
A detailed program of shifting of the endangered swamp deer (Barasingha) was designed in 2010. This plan targeted a three-year long program where a study to understand the ecology of these species and designing some strategies on conserving them was done. According to Additional Principal Chief Conservator of Forest, Alok Kumar, previously shifting of these species has already been done to Van Vihar National Park. He also said that the number of these swamp deer have increased in this national park as they multiply in a greater number. To manage this, they have sent them to a tiger reserve to form the prey base for the tigers who help in maintaining the animal life cycle.
In January 2017, 11 swamp deer were shifted from Kanha National Park to Satpura Tiger Reserve. All of them were released in Bori Forest. This batch included 2 males, 7 females and 2 foes. In 2015, 22 swamp deer were shifted from KNP in 2 phases. The same year noted the birth of 5 swamps deer and in 2016, 11 deer were born. Since only 66 swamp deer was the population count in 1970s in KNP, the officials took a serious decision of saving them and designed some plans of action to conserve this sensitive species. After a lot of efforts, the number has now raised to 600 as recently noted. The officials are still working on saving them. A similar shifting of swamp deer was done from Kaziranga National Park to Manas National Park in February 2017. Also a similar program is in action for the translocation of tigers in 2018.